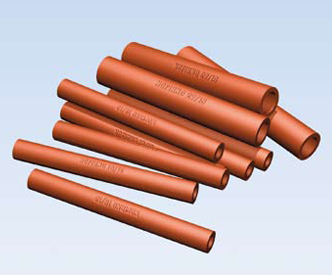 Overview
W&O proudly offers the NOFIRNO® penetration system, a sealant-based alternative for casting compounds and block systems used in fire-rated bulkheads. Developed specifically for the marine and offshore industry, these systems are very easy to install, with a minimum number of different parts. Based on revolutionary new NOFIRNO® technology, RISE/NOFIRNO® offers ultimate flexibility for sealing any combination of metallic or plastic pipe penetrations. The system comprises just two components and installation is simple.
RISE/NOFIRNO® is approved to duct any combination of cable, metallic or plastic pipes through the same penetration.
Features of RISE/NOFIRNO® Pipe Penetrations include:
• Approved for metallic or plastic, single or multi-pipe penetrations
• Labor savings; installs in a fraction of the time compared to competitive systems
• Allows pipes of dissimilar metals (and/or plastic) to pass through the same penetration
• No special transit frames required
• Pipes can be ducted off center
• Easy re-entry for future pipe changes; no need to replace material
• No metal parts, no corrosion
• No mineral wool in the system; protects against internal transit corrosion
• Provides vibration absorption and sound dampening
• Prevents condensation on service pipes
• Allows longitudinal and radial movement of pipes
• Fire rated A-0 up to A-60, H-0 up to H-120, Jet Fire
• Watertight up to 2.5 bar (36.25 psi)
• Shock and vibration tested
• Age tested to 50 years; product works today and during entire service life of your installation
• RISE® Extender Frame doubles the usable space in any existing block transit
NOFIRNO® Calculator for Bill of Materials: Transit Calculator
Just enter the quantity and sizes of cable or pipe along with the transit size if known and the Transit Calculator figures out the rest. You will receive a bill of materials, materials list and drawing in an easy to use MS Word file. Click here and get started today!
Contact us at +1 800.962.9696