Emergency Fuel Shut Off, Quick Closing Valves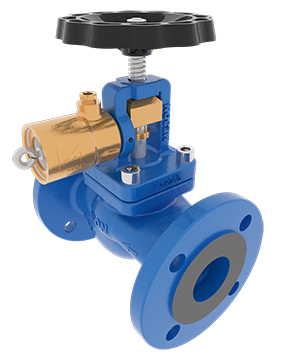 Overview
Emergency Shut Off or Emergency Quick Close Valves (QCVs) are actuated valves designed to provide protection against the harm of critical equipment, the environment, and most importantly vessel crew. The valves are designed to stop the flow of flammable fluid in the detection of a dangerous event, while being actuated from a safe location.
QCVs are flanged globe or angle globe style spring loaded fuel shut-off valves with either cast steel or ductile iron bodies and 304SS trim. There are multiple modes of operation that include: hydraulic, pneumatic or manual wire pull operation. As a last resort and critical safety feature, the release cylinders also come with an integral melt ring inside the cylinder that will melt at 178°C. This ring will melt in the event of a fire and a strong internal spring will automatically actuate the release cylinder, closing the valve.
Most common is the hydraulic application. This is a stand-alone totally enclosed system, with no outside hydraulic fluid required from the ship systems. The hydraulic impulse levers used to operate the valves during an emergency have a built-in hydraulic reservoir that holds all fluid needed to safely operate the valves. These levers are placed in a safe location outside the engine room or valve location.
W&O offers a complete Emergency Fuel Shut Off, Quick Closing valve system to help protect your company's valuable assets. Our outstanding products are flanged globe-style, spring-loaded fuel shut-off valves made of ductile iron bodies and stainless-steel trim for fuel applications. 
Available material: DI, Bronze and CS
Pressure range: 150# ANSI, DIN raised face (JIS available upon request)
Size range: ½" (15mm) through 10" (250mm)
Operation: Manual, Hydraulic or Pneumatic-release cylinder
**Sold exclusively in North America.**
Contact us at +1 800.962.9696